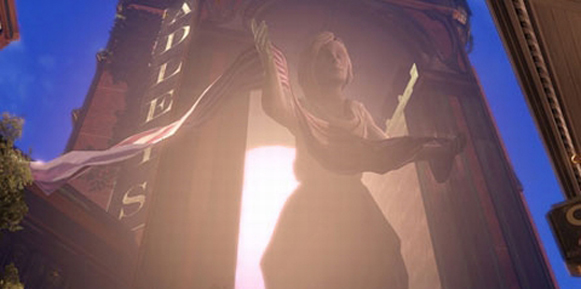 A Message from Ken Levine
Keeping secrets is hard. Irrational Games creative director Ken Levine explains what we've been up to for the past three years.
The last three years for me have been dominated by a single question: "What are you guys doing there?"
Today we announce BioShock Infinite.
It's a sequel.
Let me explain.
When we completed the original BioShock, we felt we had said all we wanted to say with Rapture, but we weren't done with the idea that is BioShock. BioShock is so much more than a story of a single place or a single time. We had so much more we wanted to say.
It would have been easier for us to go back to the well. We could have taken the easy route. We could have simply done more of the same, but we would not have been true to ourselves as game developers. Making the original BioShock was hard. We challenged ourselves every step of the way, and we tossed aside many elements and ideas simply because they weren't good enough.
You will find yourself in a completely new world. Columbia is not an unknown secret city at the bottom of the sea. It's a creation of an America transforming from a regional agrarian collection of states into a world power with global reach.
You've come to Columbia for a reason: to find a mysterious young woman named Elizabeth and bring her safely out of the city. She will travel with you, interact with you, and react to the situations you cause to happen, and through your relationship with her, we're able to tell the story of this new and amazing world.
In fact, there is so much new and radical about BioShock Infinite that we simply can't tell you all about it in one revelation. What we present to the world today is merely the tip of a very large iceberg. In the coming months we'll begin to reveal more of what BioShock Infinite is all about and let the world know why we are so excited.
Down the road a bit, actual gameplay footage awaits. It's something you're going to want to watch more than once. Trust me on this one.