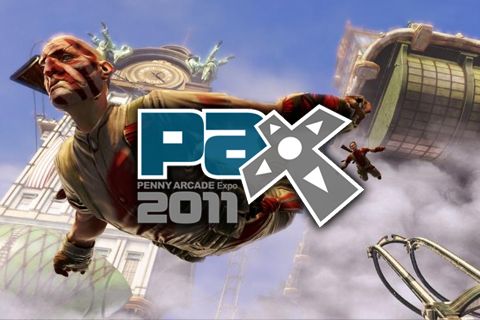 Irrational at PAX Prime 2011
Heading to PAX Prime? Irrational's running a signing session, an art gallery, and a panel featuring the first public appearance of the voices of Booker and Elizabeth. Don't miss it.
You won't want to miss Irrational's PAX Prime 2011 panel, where you'll be able to see the voice actors who bring BioShock Infinite's Booker and Elizabeth to life.
Troy Baker, the voice of Booker DeWitt, and Courtnee Draper, the voice of Elizabeth, will join Ken Levine for a discussion about creating characters in video games. Although you've heard their performances in our recent gameplay demonstration, it's the first time Courtnee and Troy will be representing the game in public.
PAX Prime runs from August 26 to August 28 in Seattle. The Irrational Games panel will be held on Saturday at 2:00pm in the Unicorn Theatre. Check out the official PAX site for more schedule information.
We'll also be holding a signing session at our booth on Saturday at 3:30pm, soon after the panel ends. Bring your swag–Ken, Troy, and Courtnee will be happy to autograph it. And come by our booth at any time during the show to browse our BioShock Infinite art gallery and have a chance to win some Irrational loot.