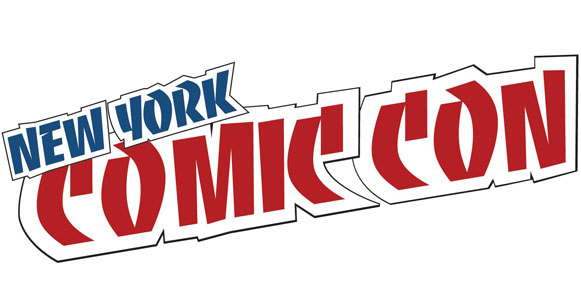 Irrational Games at New York Comic Con 2011
Irrational Games heads to New York Comic Con and lives to tell the tale.
The Irrational Games crew traveled to New York City this past weekend for none other than the 2011 New York Comic Con, and thanks to all of our amazing fans who came out, it wound up being our best trip to the Big Apple yet! We kicked things off on Saturday afternoon with a signing for BioShock Infinite, featuring Irrational Games Creative Director Ken Levine, and voice actors Troy Baker and Courtnee Draper. We brought hundreds of lithograph we had printed just for the show – perhaps you've seen it before?
Everyone in line got a poster for the Irrational crew to sign, free of charge, and not only that, your poster was your ticket in our signing raffle. That's right – 10 lucky attendees won NECA toy packs, including an EVE Hypo replica and a deluxe Big Daddy figure, all by simply stopping by. Meeting so many of our wonderful fans and having the chance to speak with so many of you face to face was an amazing experience. We met fans who showed their love for Irrational Games with tattoos, others who brought copies of Freedom Force for Ken to sign, and even some dressed in costumes inspired by their favorite BioShock characters. Take a look.
Once all that was all said and done, we set up shop at McGarry's Pub just a few blocks away for any and all Irrational Games fans to come by, relax, and have a drink with us after the show. The turnout was absolutely stellar, with so many of our fans and forum members stopping by to introduce themselves in person. After everyone had a chance to get some food and drink, we held a raffle for a handful of Irrational Games goodies, including posters, EVE Hypos, and of course, five of our limited Murder of Crows bottles. Here's an image of our first winner of a Murder of Crows bottle – we think her expression says it all…

Image courtesy of Erin Rudy Photograpy.
That wasn't even the best part. That came when we announced to those who stopped by the NYCC meet and greet that they were getting an extra, unexpected gift, and the reaction to the announcement was what we were hoping for.

Image courtesy of Erin Rudy Photograpy.
Everyone who came to the Irrational Games M&G is getting a copy of BioShock Infinite! There's no catch – all folks had to do was show up, and we'll be giving them a free copy of BioShock Infinite for the platform of their choice when the game launches. We wanted to do something special to thank our fans for all their support, so we figured a surprise was in order. Not too shabby, right?

Image courtesy Erin Rudy Photograpy.
Thanks to all who joined us in New York! We had an evening filled with so many great introductions and conversations, making it something that we'll be remembering for a good, long while. We hope to see more of you soon at the next convention!